This bundling includes 7 (seven) albums.
Albums will be sent random versions (cannot choose the album version). The image above is only for illustration purpose.
Purchase of this bundling is guaranteed to receive all ENHYPEN Members Special Photo Card (7 photo cards (1 for each member)).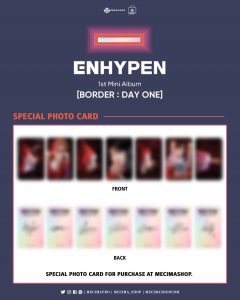 This product is an official product directly ordered from South Korea.
Price of product includes shipment fee from South Korea and processing fee.
Price of product excludes delivery fee from Mecimashop's warehouse to customer's address.
If the product comes with poster, the poster will be delivered in folded form.
Poster will be sent while stock lasts.