This product includes 14 (fourteen) SEVENTEEN Special Album '; [Semicolon]'.
The 14 (fourteen) albums consist of guaranteed each SEVENTEEN member version digipack cover (13 versions, 1 per member) + 1 (one) group version digipack cover.
Product is in

sealed

condition.
Every purchase of SEVENTEEN Special Album '; [Semicolon]' at Mecimashop includes the benefit of Special Photo Card that is available only exclusively at Mecimashop.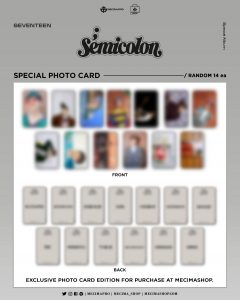 Guarantee for digipack cover only and

not

the choice of Special Photo Card.
Special Photo Card will be sent at

random

(cannot choose member).
This product is First Press edition.

For purchase during General Sales period, poster will be sent while stock last.
The outer sleeve is only for protecting the items inside. Any scratches, damages, and/or discoloration on the outer sleeve is not applicable for complain, exchange and/or return.
This product is an official product directly ordered from South Korea.
Price of product includes shipment fee from South Korea and processing fee.
Price of product excludes delivery fee from Mecimashop's warehouse to customer's address.
If the product comes with poster, the poster will be delivered in folded form.